How to Use Apple Music on Android: Tips & Tricks
Apple Music for Android launched in November of 2015 and it's available in Google Play Store now. To start using Apple Music on your Android phone, just simply launch the Google Play store and search for the Apple Music app. Click Install and download the app, then launch it on your phone.
Here are 7 tips & tricks to help you with your first experience with Apple Music on Android, especially if you've never used the service before.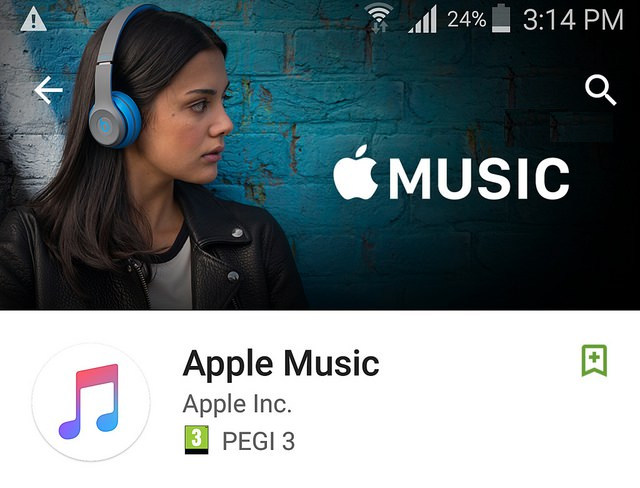 Everything You Need to know about Apple Music on Android?
>> How much will Apple Music on Android cost?
An Apple Music subscription is totally free for your first three months, but once the trial period ends you have to pay $9.99 per month.
>> Using it needs an Apple ID
Have you ever purchased something from iTunes, such as song, album, TV show, movie or something else? If yes, then you can start using the Apple Music app on your Android device straight away. But if you've somehow never used Apple's products, you'll need to create an Apple ID to use Apple Music. You can sign up for one within the app, through iTunes on a computer or on iCloud.com.
>> How to Join a family plan
If you have an Apple Music Individual Membership and want to upgrade to a family subscription plan, which allows up to six family members to access Apple Music content for $14.99 per month, follow these steps:
On your Android phone, turn off Automatic Renewal for your Individual Membership.
Ask the organizer of the Family Membership that you want to join to invite you to join the group.
Accept the invitation to join a family group.
After you accept the invitation, open Apple Music on your Android phone and check to make sure that you're a part of the group.
>> Download Apple Music songs for offline listening
Apple Music for Android is awesome because it gives you access to over 50+ million songs if you have an Internet connection. Of course, there are many times we may not connected to the Internet–on a plane, for instance. Thankfully Apple allows you to make any Apple Music song or album available for offline listening by saving the song file to your device.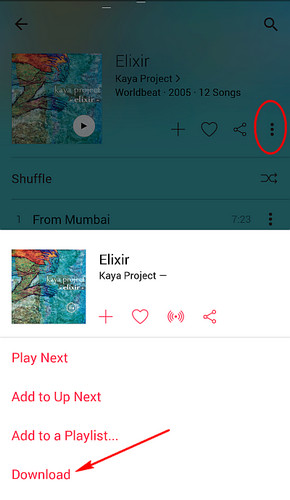 In the Music App, select the song or album you want to save for offline listening.
Tap the more options icon (…) to the right of the song, album, or playlist name.
Tap "Download" from the pop up menu to store the item offline.
>> Cancel your Apple Music membership
Your membership might renew if you don't turn off Automatic Renewal more than 24 hours before your renewal date. If you want to cancel an Apple Music membership, turn off Automatic Renewal.
In the Apple Music app on your Android phone, tap the menu icon in the upper-left corner.
Tap your name at the top of the menu to get to your account settings.
Tap Manage Membership. If prompted, enter your Apple ID password.
Tap Subscription.
Turn off Automatic Renewal. When Automatic Renewal is off, paid Apple Music memberships automatically stop at the end of the current billing cycle and free trial memberships end when the free trial period expires.
>> Apple Music Limits
Since 2009, Apple Inc. has made all its music in the iTunes store available freely, but the release of Apple Music called limits back. That means, any song from the Apple Music streaming service is placed a limit which stops you from sharing offline Apple Music songs or transferring them to other devices freely. And once cancelling Apple Music subscription, you'll lose access to the music you downloaded through your Apple Music subscription.
If you are no willing to continue subscribing Apple Music membership for some reasons but also wish to access to your favorite Apple Music, you'd better to back-up Apple Music tracks by picking a cost-effectively Apple Music Converter to free your music from Apple's limitation. If you've been wondering how to do this, fret no more, Sidify Apple Music Converter can help you save songs from Apple Music and iTunes M4P music, and convert them to plain lossless music with all ID3 tags and metadata kept. In this way, you can enjoy your favorite Apple Music on Android anytime even after cancelling Apple Music subscription.
Read more: How to Convert Apple Music to MP3 Format?
YouTube Video: How to Save Apple Music as Local Files?
Free Trial Version:
>> Can't be used as a media player on your phone
If you thought Apple had solved your problems when it comes to playing media stored on your phone, you are dead wrong! The Apple Music for Android app does not work like a media player. So, why mention this? Well, it is because unlike the iPhone users who depend on iTunes for listening to music, the Android users have largely depended on storing files on their devices and then using these devices as MP3 players.