Best Methods to Transfer Spotify Playlists to Apple Music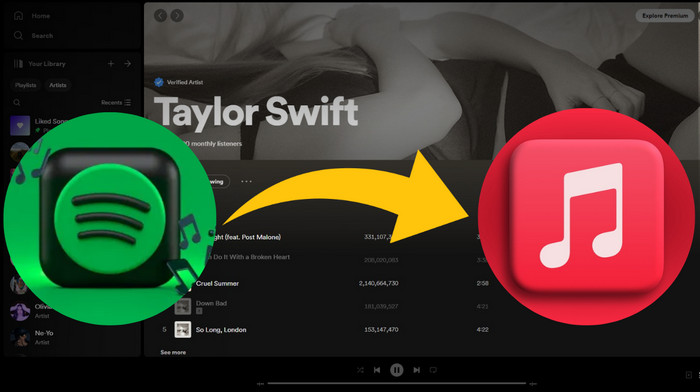 When it comes to music apps, most of the talk are about the two on-demand music streaming services -- Spotify and Apple Music. Although Spotify came much earlier than Apple Music with a large portion of fans supported, the newer music service has quickly won the popularity. And more and more Spotify users are trying to figure out the best way to export their playlists from Spotify to Apple Music. Unfortunately, there's no easy solution for this dilemma, but don't worry — you won't have to manually recreate every single playlist if you don't want to.
After comparing and contrasting various methods, we've found there are two fairly reliable third-party tools that could save lots of your hours if you have dozens of playlists that need to be moved. One is called Sidify Music Converter for Spotify, and the other is called Move to Apple Music.
Best Methods to Import Spotify Playlist to Apple Music
Apple Music allows you to create new playlist to enjoy your favorite music, but it cannot directly import playlists from Spotify. Just like most streaming services, Spotify Music also adds a DRM (Digital Rights Management) layer to its streaming music. If you have any music in Spotify that are not available in Apple Music and you would like to add them on your Apple Music playlist, Sidify Music Converter for Spotify is an application that can help you download Spotify Playlist to save on your computer and then transfer them to Apple Music playlist.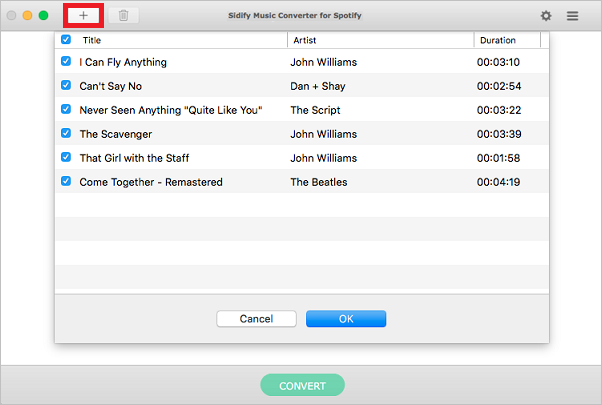 Things You'll Need:
A Computer running Mac OS or Windows OS;
Spotify is well-installed;
Download & Install the latest version of Sidify Music Converter for Spotify;
Step 1. Launch Sidify and click"

" icon or "Click here to add Audio" to import Spotify music.
Step 2. Open your Spotify and log in with your Spotify account.
Step 3. Drag & drop playlist from Spotify to Sidify Music converter. Then choose the output format by clicking the gear button or setting button.
Step 4. Click "CONVERT" button to start converting those DRM-ed audio files to plain MP3, AAC, WAV or FLAC format without lossing in quality.
Now, you can import all your DRM-free Spotify Music to iTunes and Apple Music playlists easily!
Step 5. Open iTunes, go to Menu bar and find "File -> Library -> Import Playlist" to import the Spotify playlists strored on your local computer.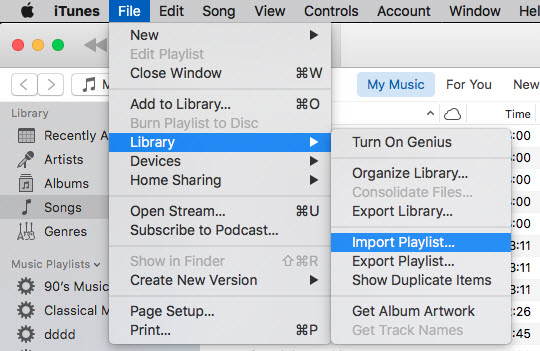 The second method is to use another third party tool– Move to Apple Music. Though it looks more easier compared with the first method, it's not as accurate as some songs may not be transferred successfully. It is because some songs cannot be found on Apple Music, and the music tags are different in these two music apps. However, you can transfer Spotify playlists to Apple Music with simple steps, which would benefit those who are not into complicated procedures.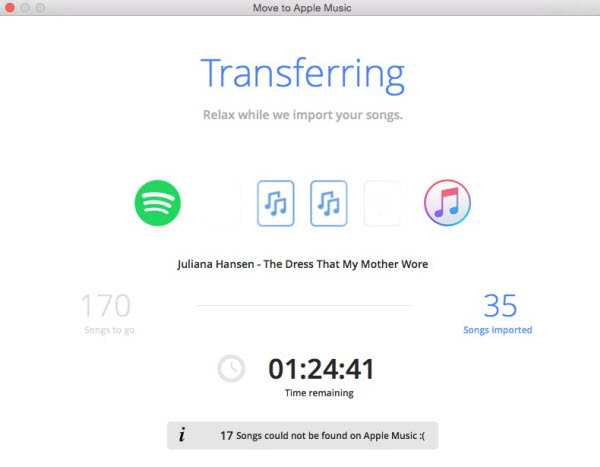 Step 1.Download and install "Move to Apple Music" application.
Step 2. Launch the program and click "Spotify" from the options and log in with your Spotify account.
Step 3. Click the name of the playlists that you wish to transfer and click "Next".
Step 4. Choose "Capture session" and enter your Apple Music ID and password.
Step 5. On iTunes, click "like" or the heart icon next to any song until a "Yes" notification window opens.
Step 6. Click "Next" and then it would start transfering your Spotify playlist. It will take time to detect and transfer songs and you may experience slowness on your Mac during this process.
Conclusion:
If you're making the jump from Spotify Playlists to Apple Music, a hacky workaround is essential. Compared with Move to Apple Music, Sidify Music Converter for Spotify does a much better job with just few easy clicks. It helps you remove DRM from Spotify Music using a Mac-based machine, allowing you to access your content on a variety of devices. Moreover, the application allows for batch conversions and adjustments to settings such as output quality and conversion speed, making the program suitable for more than just stripping DRM restrictions.