How to Burn Spotify Music to CD
Do you want to enjoy your favored Spotify songs when you are off-line during the vacation? Are you thinking of burning CD from Spotify so that you can play it on your car? Well, this article will show you the best ways to do it with couple of clicks.
Lots of Spotify users encounter this trouble. All we wish to do is burn my Spotify songs to CD, we are not going to offer or share it to others. Fortunately, right here I got a easy method to use software tool that can convert music downloaded from Spotify as MP3 files and then burn to CD with iTunes or any CD authoring software you like.
Things You'll Need:
A Computer running Mac OS or Windows OS
A CD/DVD Burner: Most computers nowadays come with a built-in DVD burner that has the capability to burn CDs. If you don't have one of these burners, you can buy an external DVD burner that plugs into your computer's USB port.
A Blank CD disk: A CD-R or CD+R disc means that you can only burn (write) data to it once, but a CD-RW or CD+RW disc can be written to multiple times. The write-once CD-R or CD+R provides maximum compatibility, but newer players accept CD-RW or CD+RWs, too.
The latest version of Spotify
Sidify Music Converter for Spotify
Part One: Remove DRM from Spotify Music with Sidify Music Converter
Step 1. Drag & Drop Music from Spotify to Sidify
Launch the Sidfiy Music Converter for Spotfiy and click "

" icon to manually drag & drop any music file or playlist from Spotify into the application window. Then you can check the music that you need to convert and press "OK" button.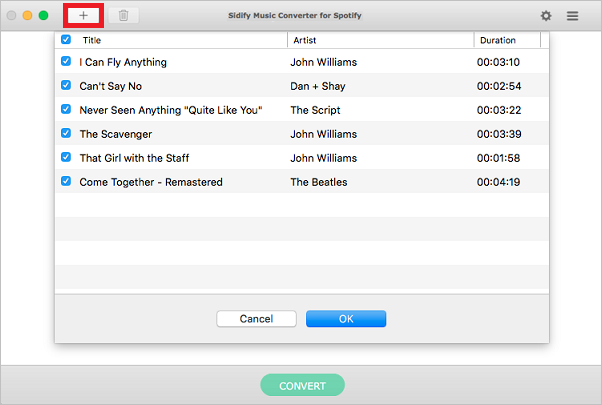 Step 2. Choose Output Format
Afterward, click setting button in the top-right corner and adjust the basic parameters (Including Output format, Output quality and Conversion speed). Here you can select format as MP3, AAC, FLAC or WAV and choose output quality up to 320kbps.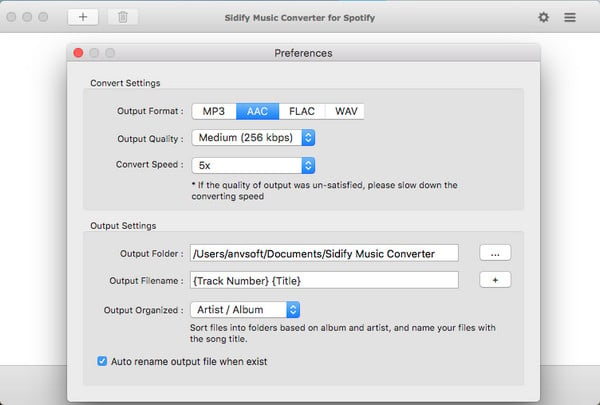 Step 3. Start Converting Spotify Music
Click the green "CONVERT" button to begin the conversion process. A pop-up window will appear two blue progress bars indicating the current and total conversion progress.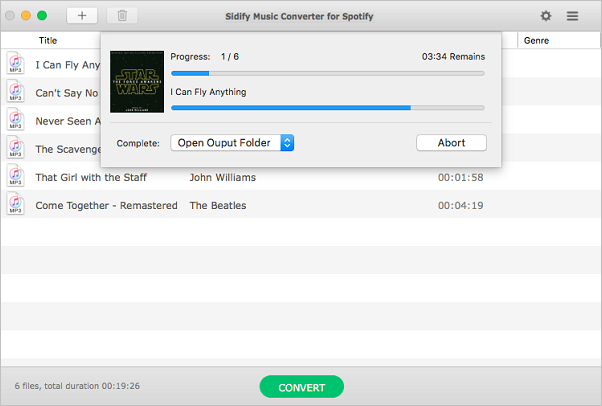 Part Two: Burn the Well-converted Spotify Music Tracks onto a CD
After got converted Spotify files that we want to burn to our CD, if you have burned CD before, this part would be just a piece of cake. Now we can start burning Spotify files to CD withiTunes, please refer to the following guide:
Step 1. Launch iTunes and create a new playlist to store the converted Spotify music files.
Click on File > New > Playlist to create a new playlist and type a name for the playlist, then drag & drop the files into the newly created playlist.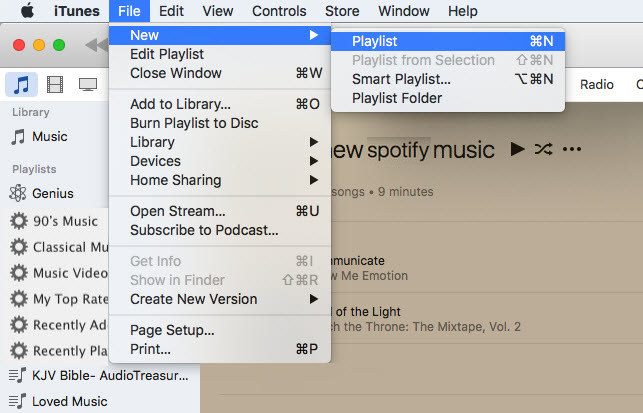 Step 2. Insert a CD disc and adjust Burn Settings
Insert a blank CD disc, waiting until the disc is recognized. Right click the playlist and select Burn Playlist to Disc" to enter the Burn Settings. Then adjust in according to your needs.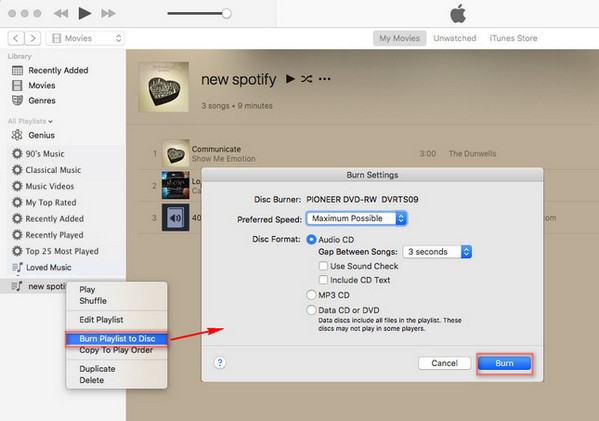 Step 3. Start the recording
Hit the button "Burn" to start recording all the Spotify files to CD.
Now, you can freely enjoy your favorite Spotify music while you are driving.
Note: The free trial version of Sidify music converter for Spotify enables us to convert 3-minute file for each audio file, but the full version doesn't have this constraint. Just purchase the full version to unlock the time limitation.