The Best Podcasts on Spotify and How to Download Them as MP3
Spotify quickly becomes people's favorite streaming music services to enjoy and download music on computer or smart phones. At the same time, Spotify is also one of the best places where you can listen to or download some of the best podcasts. So if you are Spotify user, you do not need to spend extra time to find the good podcasts from other platforms, just type the podcasts you want to listen to and you will find most of them on Spotify.
The following part shows a list of the best podcasts you can listen to on Spotify and shares you an extra tips on how to download these best podcasts from Spotify to MP3, so that you can enjoy them on the go.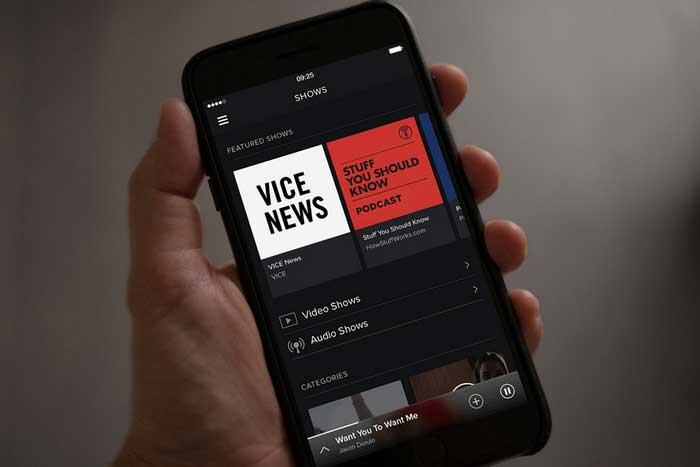 Part 1: The Best Podcasts on Spotify You Can't Miss
Here we list the best 14 podcasts you can enjoy on Spotify. Most of them gain much popularity from wide listeners, and you can have them to kill time or acquire knowledge in your spare time.

1. Stuff You Should Know
Like an encyclopedia telling us how things work. The show features Josh Clark and Chuck Bryant discussing topics and trying to get to the core of the information you need to know about them. Stuff You Should Know recognizes the gaps in most adult humans' knowledge and fills you in with some great episodes.

2. Love + Radio
Features in-depth, otherworldly-produced interviews with an eclectic range of subjects, oral story and hidden life of people like robbers, erotic girls, voyeurs, exiles....

3. Reply All
"'A podcast about the internet' that is actually an unfailingly original exploration of modern life and how to survive it." - The Guardian. This show takes a more philosophical way to explore how people impact the internet and how internet impacts us.

4. How I Built This
Guy Raz dives into the stories behind some of the world's best known companies. How I Built This weaves a narrative journey about innovators, entrepreneurs and idealists—and the movements they built.

5. You Must Remember This
The podcast about the secret history, long-forgotten mysteries and lesser-known figures of Hollywood's first century.

6. Under The Skin
In the podcast Russell Brand interviews a variety of guests from "the world of academia, popular culture and the arts." In the podcast a variety of public figures and academics are interviewed.

7. A Very Fatal Murder
A Very Fatal Murder sends Onion Public Radio (OPR) correspondent David Pascall from New York City to the sleepy town of Bluff Springs, Nebraska to investigate the mysterious death of a 17-year-old girl, Hayley Price.

8. Upvoted by Reddit
Thousands of unique stories are happening on Reddit everyday, propelling people and ideas to an audience of millions. But what happens after those posts go up? What happened leading up to it? Upvoted gives these stories.

9. 99% Invisible
Design is everywhere in our lives, perhaps most importantly in the places where we've just stopped noticing. 99% Invisible is a weekly exploration of the process and power of design and architecture. From award winning producer Roman Mars.

10. Homecoming
Homecoming centers on a caseworker at an experimental facility, her ambitious supervisor, and a soldier eager to rejoin civilian life — presented in an enigmatic collage of telephone calls, therapy sessions, and overheard conversations.

11. Welcome to Night Vale
Twice-monthly community updates for the small desert town of Night Vale, where every conspiracy theory is true. Turn on your radio and hide. Never listened before? It's an ongoing radio show. Start with the current episode, and you'll catch on in no time.

12. LOVE Life with Matthew Hussey
Matthew Hussey is the world's leading dating expert for women. He is a New York Times bestselling author, a monthly relationship advice columnist for Cosmopolitan Magazine, and the resident love expert on The Today Show.

13. Hardcore History
In "Hardcore History" journalist and broadcaster Dan Carlin takes his "Martian", unorthodox way of thinking and applies it to the past. Dan Carlin takes some of the most famous characters in history as an example, and you will rethink how we look in the past.

14. PetaPixel Photography Podcast
A twice-weekly podcast about the wonderful world of photography. It's a fusion of news, opinions, humor, and real-world experience.
Part 2: How to Download the Best Podcasts from Spotify to MP3
Wanna enjoy these best Spotify podcasts on the move, but only to find the DRM protection prevents you from copying the stuff to other media players or portable devices? Now read on to learn how to download podcasts from Spotify to MP3 without Spotify Premium.
Here Sidify Music Converter for Spotify is your best choice to download Spotify podcasts as plain audio formats including MP3, AAC, WAV or FLAC with 100% original sound quality kept, thus you can transfer them to iPod, iPhone, Android phones for offline enjoying.
Key Features of Sidify Music Converter for Spotify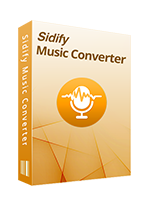 Convert Spotify music/playlist/podcast to MP3, AAC, FLAC or WAV;

Preserve the quality of the original sound; Keep ID3 Tags and all metadata;

Fast conversion speed; Simple and innovative user interface;

Highly compatible with the latest Mac/Windows OS and Spotify.
Tutorial on How to Download Spotify Podcasts to MP3 without Premium
Step 1: Run Sidify Music Converter for Spotify
Download and install Sidify Music Converter for Spotify on your computer, then launch the program. And if you want to download Spotify podcast to PC, you can refer to how to download podcast from Spotify to PC without Premium.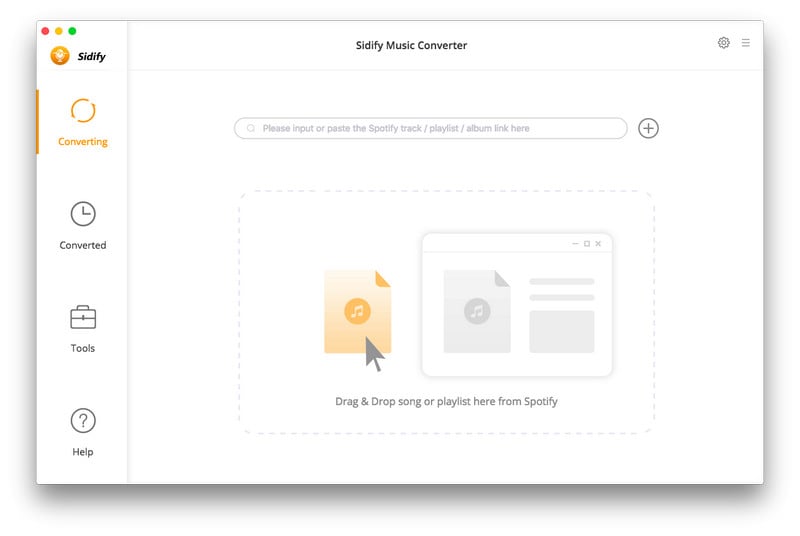 Step 2: Add Spotify Podcast
Click "+" icon or "Click Here to Add Audio", then an adding window will pop up to indicate you adding Spotify tracks, playlists or podcasts. You can search your favorite podcast on Spotify and drag & drop it to Sidify Music Converter. Or you can copy the podcast link or whole show link to the clipboard
Then click "OK" to add the podcasts to the track view interface.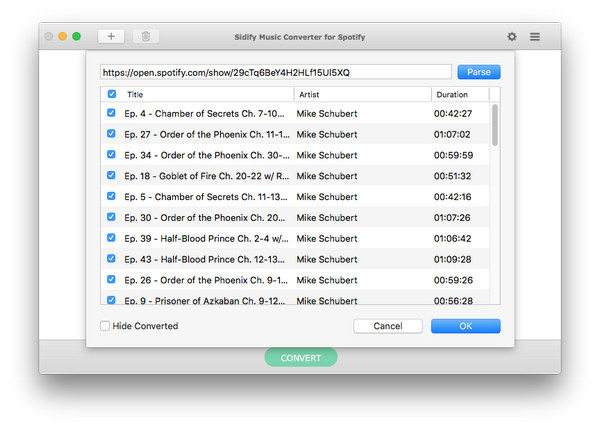 Step 3: Choose MP3 as the Output Format
Click

button at the top right corner and a setting window will pop up to let you choose the output format, output quality, and conversion speed. Here you can choose the output format as MP3.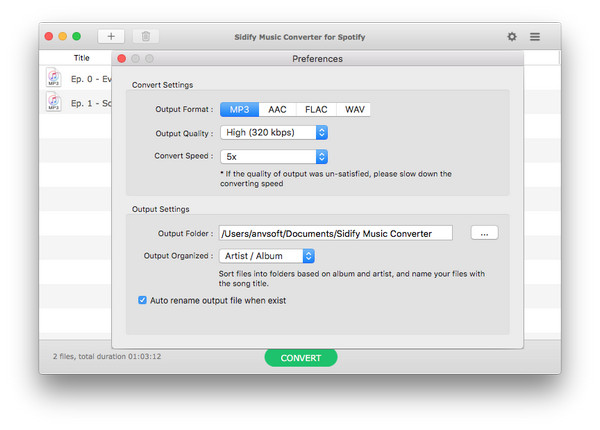 Step 4: Start Downloading Spotify Podcasts
Click "CONVERT" button to start downloading Spotify podcasts to MP3. After Sidify Music Converter completes the downloading, you can click

button to check the well downloaded Spotify podcasts.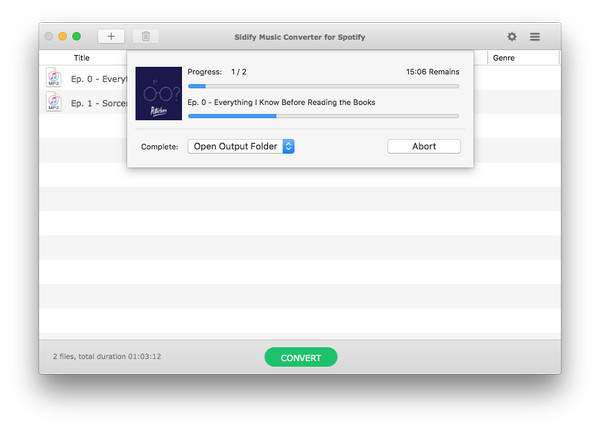 Now you can feel free to enjoy your favorite Spotify podcasts on multiple media player like VLC, iTunes, Quicktime player or Window Media player. Or you can transfer these Spotify podcasts to MP3 player, iOS/Android mobile phones to enjoy them on the go.
Video Tutorial: How to Download Spotify Podcast to MP3 on Mac:
Note: The trial version of Sidify Music Converter for Spotify enables us to convert 3-minute for each audio file, you can unlock the time limitation by purchasing the full version.