Sidify is not an agency nor affiliated program of Spotify.
If the problem you are encountering cannot be solved by the solution(s) below, please contact our technical support team at
[email protected]
via e-mail for further help.
[1] Run Sidify and click "Sidify Music Converter > Registration" on the upper left or directly click the "unregistered" icon from Sidify to register your program.
[2] Fill in the blanks with your E-mail address and Code you received from your email and then click OK.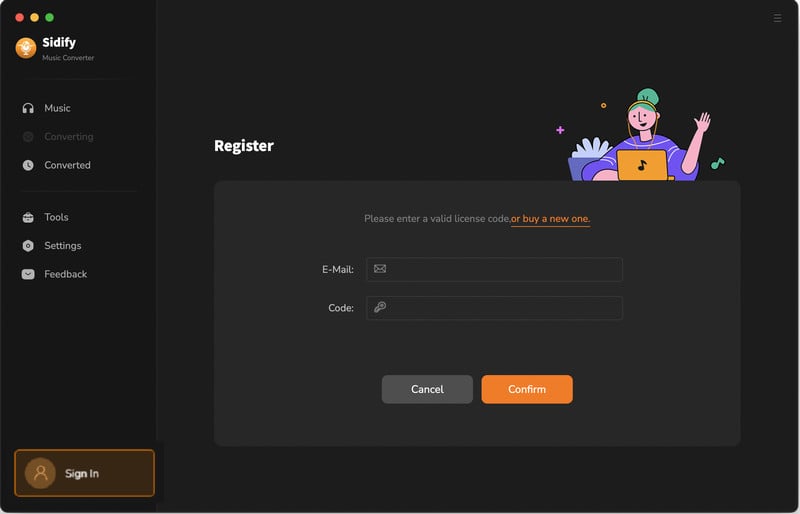 There are two possible causes for invalid code.
[1] Please make sure that you are running the right program.
[2] Extra spaces are accidentally added while filling in your e-mail and code. Please check whether there are spaces before or after the registration info.
If you still get the Error Message, please contact our support team via [email protected] for help.
Free trial version allows users to convert the first 3 minutes of each audio file and only convert 3 files at one time. To unlock the restriction, please purchase a license.
Currently Sidify Music Converter is specially designed for converting Spotify music to MP3, AAC, WAV, FLAC, AIFF or ALAC format.
Definitely. You can export all the songs in your Spotify playlist in a single go. You can also convert multiple playlists at one time.
Launch Sidify and click "Settings" on the upper right, where you can choose how you'd like the output files to be organized - "Artist/Album", "Artist", "Album", "Artist/Album" or "None".
Sidify Music Converter for Mac is capable of converting Spotify Music at 10 times faster speed than the normally playing speed.
Please contact us at [email protected] via e-mail and provide us with your macOS, Spotify version and Sidify log file as well for analysis.
Tips: How to find the log file of Sidify? Just find the menu button on the upper left corner and click on File > Show Log File, and a window which contains the log file would pop up.