Tidal and Spotify Side by Side Comparison
Tidal and Spotify, as the subscription-based music streaming services, have their own strong points and receive much popularity from users. Different people have different impressions towards Tidal and Spotify and have their reasons to choose Tidal or Spotify as the fixed subscription service. This pager will make simple comparisons between Tidal and Spotify in each side, and share the useful tips to use these 2 streaming services.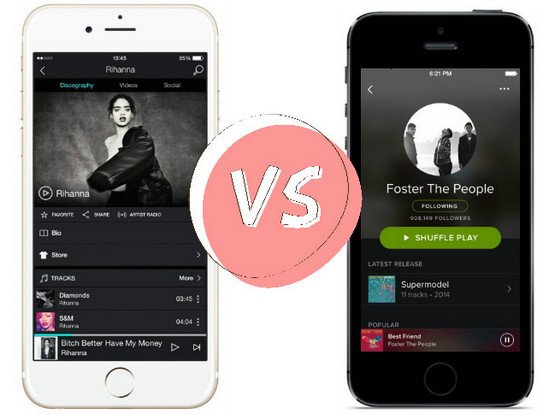 Side by Side Comparison between Tidal and Spotify
Firstly, let's look at the quick guide for the basic differences and similarities between Tidal and Spotify.
| | | |
| --- | --- | --- |
| | | |
| Founded | October 2014, UK, US, and Canada | October 2008, Stolkholm |
| Monthly fee | Tidal Premium $9.99 / Tidal HiFi $19.99 | $9.99, £9.99, AU$11.99 |
| Family plan | Premium $14.99 / HiFi $29.99 for 5 family members | $14.99 for 6 family members |
| Student plan | Premium $4.99 / HiFi $9.99 per month | $4.99 per month |
| Military plan | Premium $5.99 / HiFi $11.99 per month | / |
| Free trial period | 30 days | 30 days |
| Availblility | 52 countries | 58 + many territories |
| Number of users | over 3 million subscribers | over 60 million subscribers |
| Music library | over 50 million | over 30 million |
| Sound quality (Premium) | 320 kbit/s in AAC for Tidal Premium / variable in FLAC, ALAC, MQA for Tidal HiFI | 320 Kbps in Ogg for Premium / 192 Kbps in Ogg for Free |
| Offline listening | Yes, with paid subscription | Yes, with paid subscription |
1. Tidal vs Spotify: Cost
Spotify has a two-tier system: free and $9.99 per month, and it also provides nearly 50% discount for family members and students. Tidal also has two basic plans: the cheapest $9.99 per month for Tidal Premium essentially matches Spotify's Premium offering. The more expensive $19.99 per month for Tidal HiFi is twice as Spotify's Premium. Tidal also offers nearly 50% discount for family members, students and militaries, but you still need to pay more if you want Tidal HiFi plans.
Verdict: Tidal has no advantage in pricing, which means that you need to pay much more for CD quality. The higher price may step some users back, but fortunately, $9.99 is the market price same as other streaming music services.
2. Tidal vs Spotify: Audio Quality
Tidal Premium plan offers "high quality" at AAC 320 kbps. Spotify offers the 96kbps option as normal quality on mobile, but also offers a high-quality 160kbps with the free version. And after you pay $9.99 a month for Spotify you can stream at 320kbps "Extreme quality" for better sounding experience.
If you pay for the high-end Tidal HiFi at $19.99 per month, you can access to lossless content which is not compressed and streams at CD quality. It streams music in the form of 16bit, 44.1kHz FLAC files with a bitrate of 1411kbps, so the serving for brilliant audio quality differs Tidal from other rivals.
Verdict: Tidal is winner over sound quality aspect and is the ultimate music resource for fans of hi-fidelity music. Especially when playing Tidal music via external speakers, the delicate difference of the audio quality can be distinguished. And if you are particular about audio quality, Tidal is the best place.
3. Tidal vs Spotify: Discovering New Music
The feature of discovering new music is also an important factor taken into consideration when choosing a music subscription service. It includes music library, recommendation, radio etc.

Music Library: Spotify offers over 50 million songs and TIDAL 48.5 million. Of course, but this only matters if your favorite artists or bands are missing.
Recommendation: Discover Weekly playlist on Spotify is really worth mentioning here. This is an awesome way to discover new music. But it seems that there is nothing similar in Tidal. Spotify remember the information each time you listen to a track, try a new artist, skip a song, repeat a song, or do anything else while using the service, in this way it quantifies the new music and a playlist with 30 new tracks that you might love will be refreshed every Monday morning. In addition, Release Radar, which works differently from Discover Weeklya and updates in each Friday, is a great place to discover new music. And another music discovery feature - Daily Mix is a good way to find more music.
But Tidal also has its own way to work out. It provides curated playlists, tracks, recommended hi-fi albums as well as top 20 charts and staff picks based on editorial slant. You can't search music by genre, but there is a Genres button you can press on in the sidebar which will take you to curated areas with playlists and recommended albums. In general, Tidal acts this feature simply and directly. And this all depends on what music you're looking for and which way you really like.
Exclusive: Both Spotify and Tidal has its own exclusives, but Tidal may works most prominently. It has deals for exclusive content from major artists including Jay-Z, Beyonce, Kanye West, Nicki Minaj etc.
Music Videos: More than 75,000 music videos and music movies built-in Tidal is another factor that no rival can compare. Spotify now also offers some music videos in app and users can watch HD music videos on YouTube.
4. Tidal vs Spotify: Social Features
Good social features make music service special. You can connect Tidal to Facebook which will allows you to share music with your friends or extract a URL if you want to link someone to any album, playlist or track. But the social features are not as mature as the ones in Spotify. It'll take a lot of work to catch up with it, but it should be expected.
---
Extra Tips: How to Move Spotify Playlists to Tidal?
If you want to move Spotify music to Tial, especially the exclusives that you can't find on Tidal, you can use Sidify Music Converter for Spotify to download music or playlist from Spotify to MP3 / AAC / FLAC / WAV for transferring to Tidal for playback.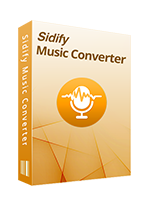 Key Features of Sidify Music Converter for Spotify:

Remove DRM and convert Spotify music/ Playlist to MP3, AAC, FLAC or WAV.;

Preserve the quality of the original sound; Keep ID3 Tags and all metadata;

Fast Conversion Speed; Simple and innovative user Interface;

Highly compatible with the latest Mac/ Windows OS and Spotify;
>> Learn more about How to Move Spotify Playlists to Tidal <<